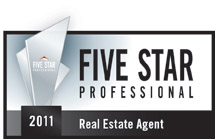 Once Again Natalie Wallach has received another award as a 5 Start Professional. This award is granted to less than 2% of the 69,000 New Jersey Real Estate Agents. Please read below how Natalie was elected by her clients.
Five Star Professional has named the New Jersey recipients of the 2011 Five Star Real Estate Agent award. The award winners appear in a special section in the March issue of New Jersey Monthly.
Five Star Professional partnered with New Jersey Monthly to conduct research to identify a select group of real estate agents who are exceptional in both their ability and their commitment to overall satisfaction. Fewer than two percent of the 69,000 New Jersey area residents holding real estate licenses were selected.
A survey was provided to all New Jersey area residents who purchased a home over $100,000 within a 12-month period (May 2009 to May 2010), 20,000 subscribers of New Jersey Monthly and 250 mortgage and title companies. Respondents were asked to evaluate real estate agents they knew through personal experience and to evaluate them based on nine criteria. Both negative and positive evaluations were included in the scoring.
All qualified real estate agents were screened with the New Jersey State Real Estate Commission's database to verify that licenses were current and no disciplinary actions were pending. The final list was reviewed by a panel of local realty company executives, professional and trade association officers and others directly involved in housing-related businesses